Product Detail
Customer Reviews
Shipping Guide
BJD Doll Pre-order & Delivery Time
Beetles Glass Eyes Shopping Guide
LAYAWAY
Product Tags
 ◆◇QQ WIG◇◆
 Item No.: QQ-124
Wig only! No doll or other accessories!
=========================================================================
◆ Size: 1/3 (21-23CM)
Color: Tea brown
◆ Material: Soft Silk  hairline; soft and smooth.
Compare to heat-resistance wig, it is more soft and thin, and much easier to maintain.
=========================================================================
Attention:
The wig comes with the net as below photo. Please cut the net off carefully.
---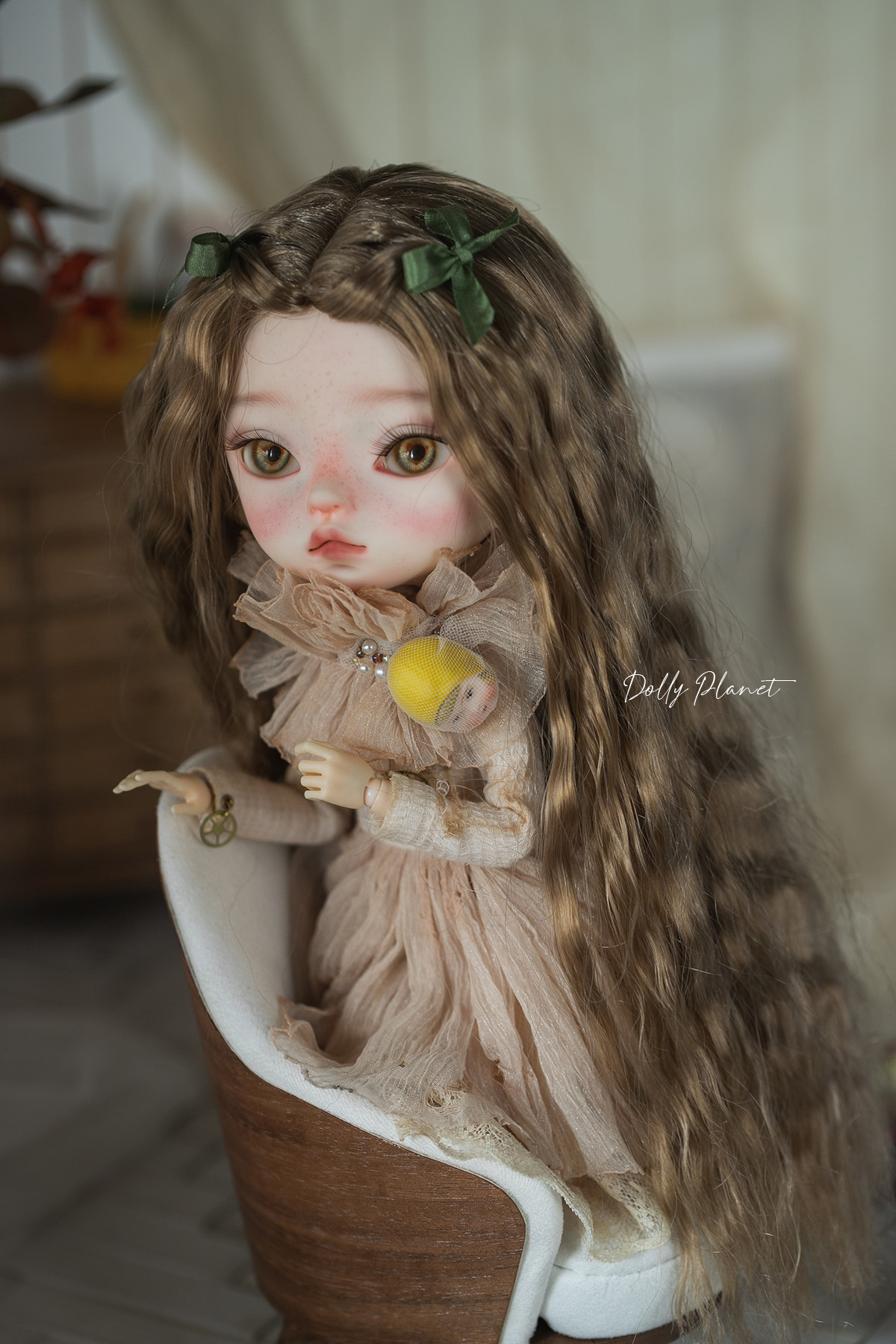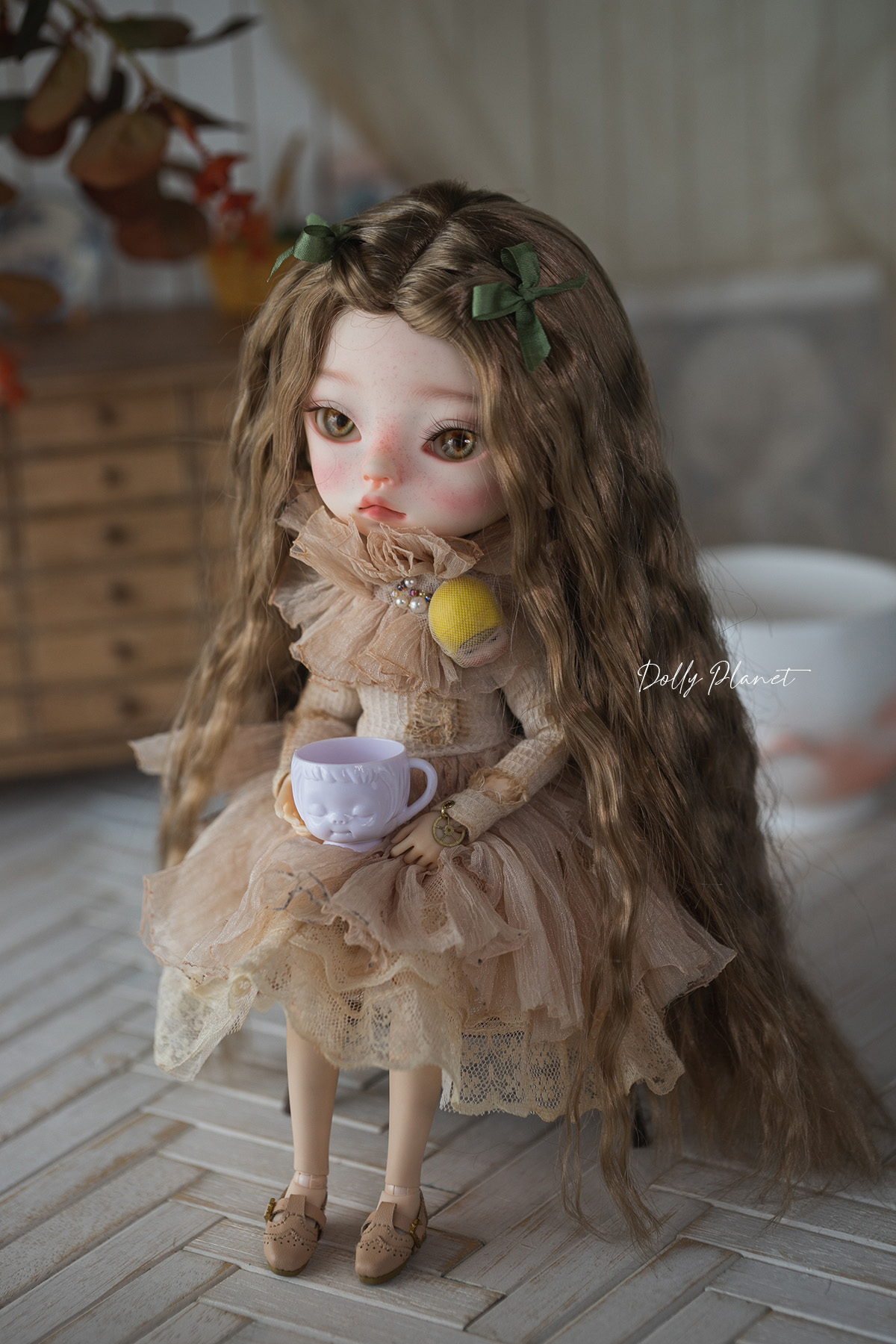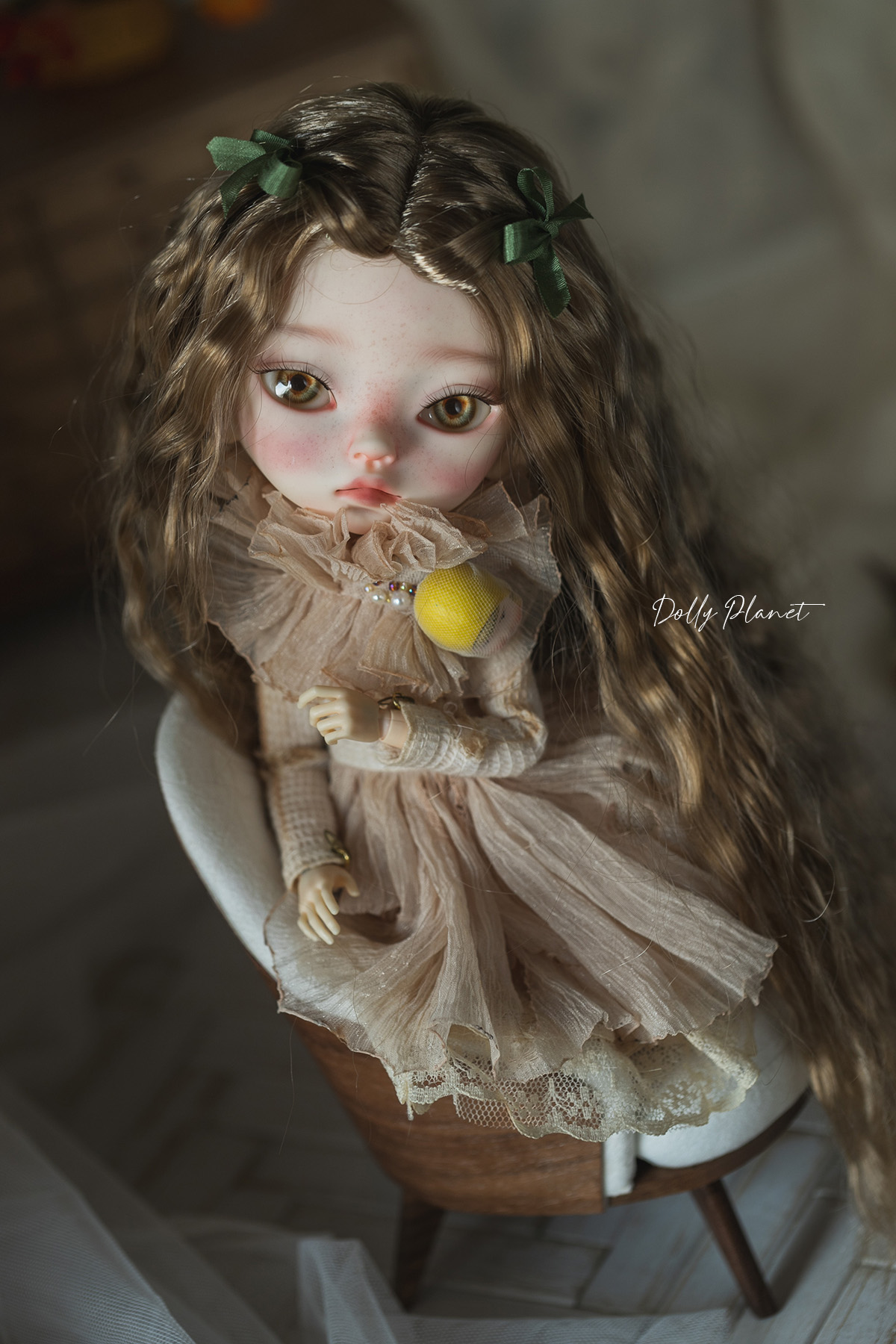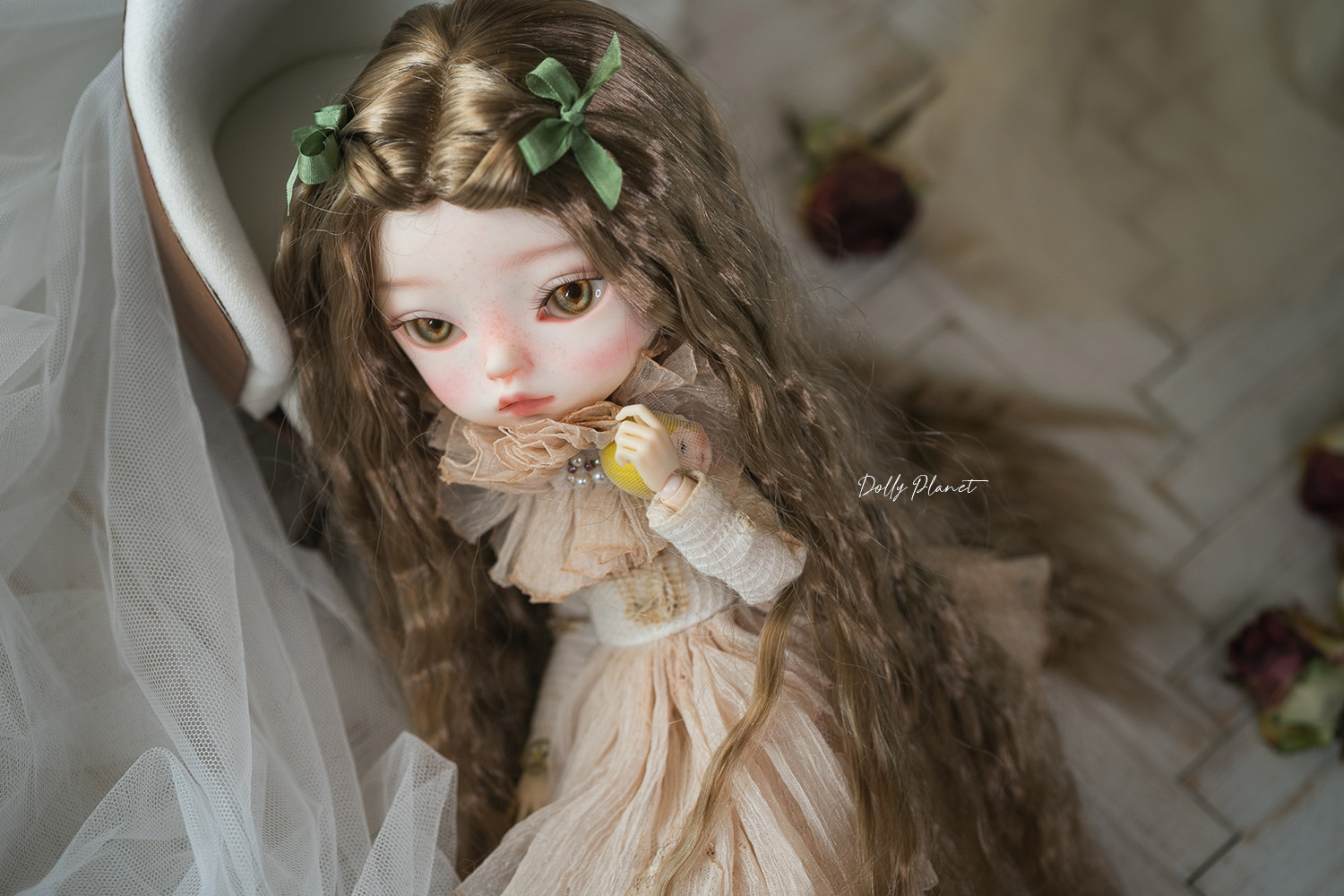 Dolly Planet Shipping Guide:
Dolly Planet products [Beetles Glass eyes  & QQ wigs]  are instock items;
If some items are not instock when you place order, we will email you to specify the time.
Default shipment is E-PACKAGE; USPS or HONGKONG POST .
Asia:
Airmail post ; E-package:
Tracking site:  http://www.17track.net/en
USA:
USPS; E-package
Tracking site: https://tools.usps.com/go/TrackConfirmAction?tLabels=
DHL E-POST
Tracking site: https://dhlecommerce.asia/track/Track?ref=
Europe, Russia, Australia,Canada: 
HongKong Post
Tracking site: www.hongkongpost.hk
E-package:
Tracking site: www.ems.com.cn
BJD DOLLS will be shipped default by EMS /USPS ;
If you have specific request , please contact us by message or email to kokdollcollection@outlook.com for details.
[Dolly Planet] Instock Products will be delivered during 5~9 business days! Weekend and Holiday time no Shipments.
[Dolly Planet] Custom order sizes normally takes around 20~30 business days.
All BJD dolls are Pre-order ; waiting time normally around 30-90 business days or longer.
BJD Doll Pre-order instruction:
1.  BLOSSOM DOLL; CLOVER DOLL; MYOU DOLL; MYSTIC KIDS; DOLL LEGEND dolls are all shipped out assembled ;
2. Please avoid any kind of light because exposing to light ( Sunlight or indoor light) for a long time , the doll skin will turn yellow;
3. Pre-order dolls are custom product,  Once full  payment sent ( including Layaway deposit) , order cannot be changed or cancelled;
4.  Waiting time is varied from different companies. If the waiting time is long, please be patient. We will try our best to make the order shipped out as soon as possible. At the same time, your understanding and patience are very important and thankful.
5. We offer layaway payment for doll order over US$200 ;
Details please contact us by kokdollcollection@outlook.com .
The following Shopping Guide is our humble summary from our experience. We hope it can be useful
1. What is Pupil?What is Iris?
It is clear from photo:Eyes White–White color part,Pupil is the black spot in the middle,  Iris is the color part in the middle not include the pupil.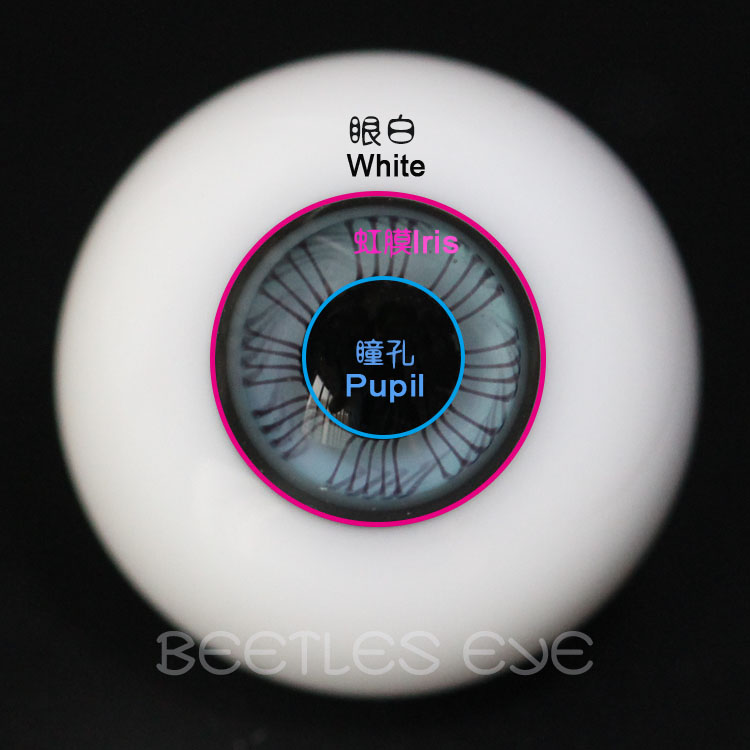 2.  what size eyes XX Doll wear?
About the sizes choosing, we cannot provide specific answer this question specifically because there are too many doll companies and dolls.
We suggest to  consult the doll company, or make measurement by yourself.  Please take the photo measurement way as reference.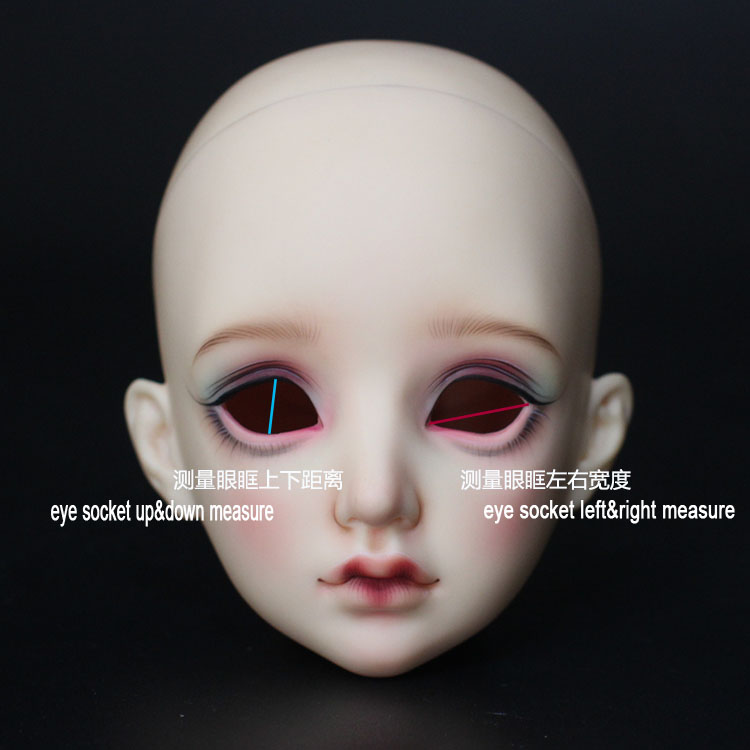 Maskcat Doll Nerine example
As the photo you can see,  Nerine eyes socket width is around 13.5MM. In order to fit the eyes, we suggest to choose eyes adding 2~3 MM , so 16MM is fit.
Eye socket up&down highest part is around 7.6MM, so  choosing eyes with  8MM Iris can fit normally ; Iris 8.5-9MM:  look gentle/cute; Iris smaller than 7.5MM: energy/wary/sharp-witted.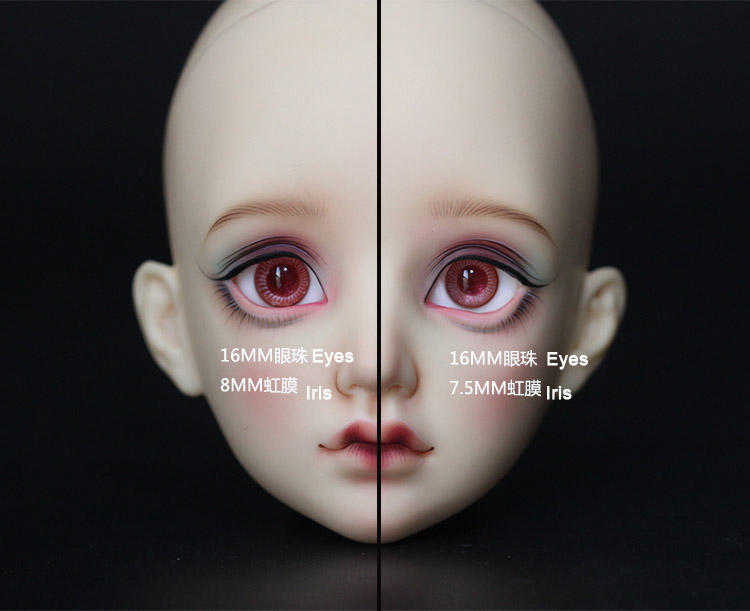 3. What is the differences between Noral Iris and small Iris Low arc eyes?
Please see the photo for direct comparison: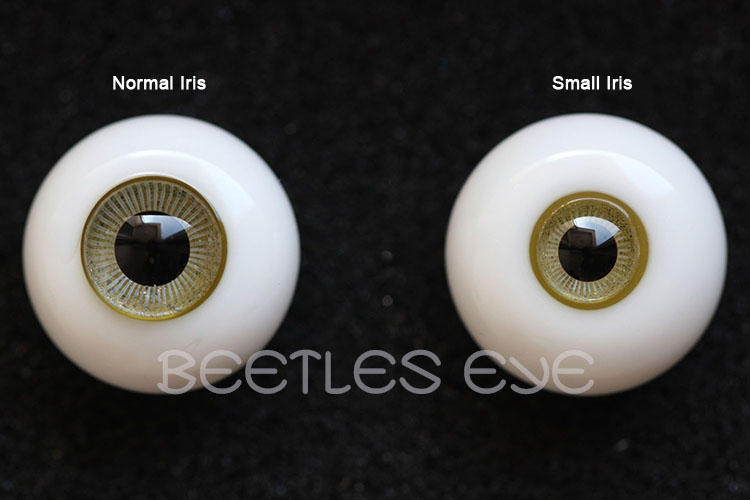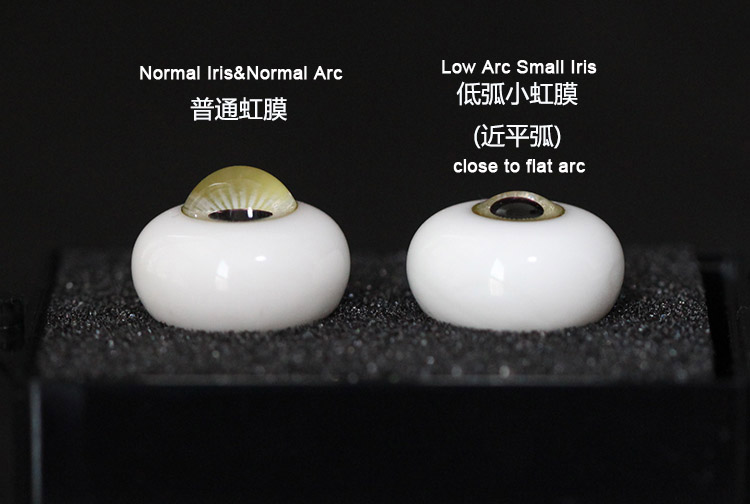 4. Eyes Arc comparison of our shop
Our glass eyes are all handmade and made by different artists. So different patches eyes arc are different.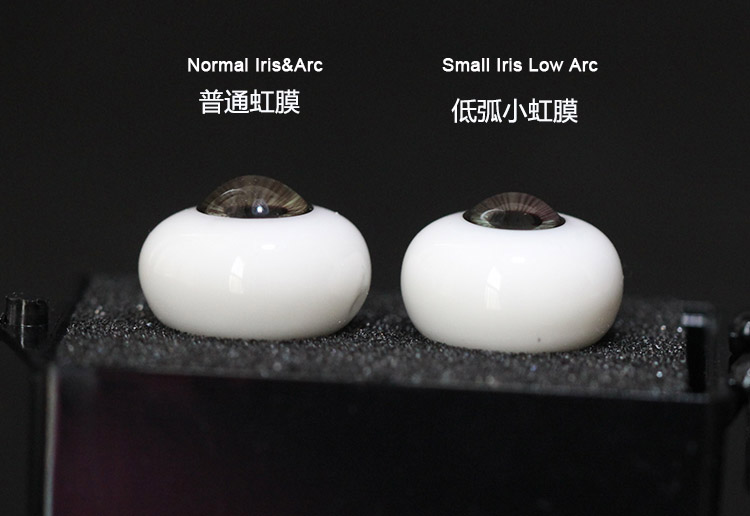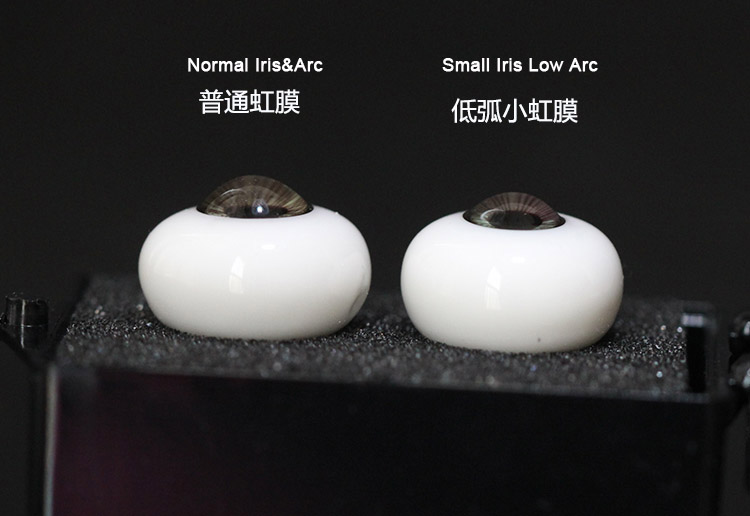 5. How to choose the right eyes for your doll,here are some of our suggestions:
*With lighter Color Iris, the doll will look more energy/sharp-witted; With darker Iris color , will look more gentle or serious ;
*Small Iris low arc eyes are more fit the human look doll sculpts; or  a foxy, sharp look .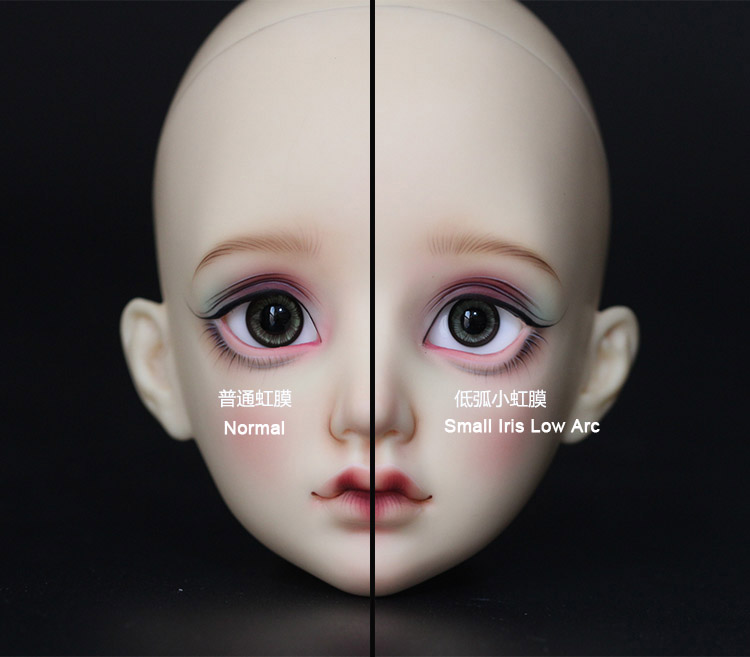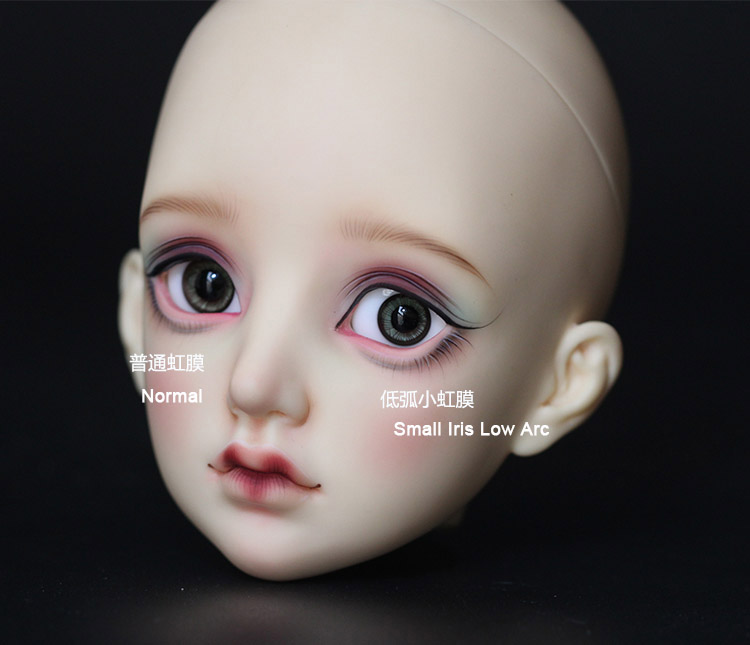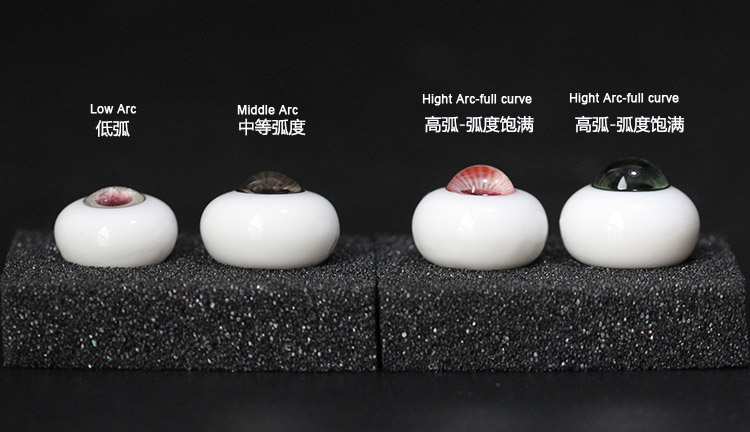 6. Why the same size eyes are different: A series,H series and BQ series?

As we clarify in each page:  our glass eyes are made by 3 Artists; each series sizes are different ( we normally added the reference sizes in each page) ,
in addition, glass eyes are handmade products, each patch is with slight differences.
If the doll eyes socket are very special kind and request  detailed size, you can email us for a specific measurement before order
(for example: DIM company doll Luria, the eyes socket is 14MM which cannot put eyes even bigger 0.5MM ; Or SOOM company eyes socket has big limitation on the eyes size)
The above suggestions are written according to our experience;  if there are flaw info , we will thank you for your kind remind and provide us your suggestions ; Also , you are very welcome to email us your advices and your sharing will be treasure to us .
Thank you for reading!
Dolly Planet
1. 30% Deposit paid in advance;
2. Balance can be paid before shipment  ;
Or you can email kokdollcollection@outlook.com for specific amount each month!
3.  Longest layaway time is 6 months.
4. If customer do not answer emails and do not finish payment in 6 months, we will see the order as an abandon order.